Canada Vs. Mexico
In 2018 we went on a cruise to Mexico. It was our first cruise and it was fantastic! We were part of an 8-party group that cruised together and we visited 3 ports and had 2 formal evenings onboard. We had the time of our lives and love it!
In 2019 we went on an Alaskan cruise. It was just two of us that time and we flew to Seattle and into Canada where we boarded the ship. It was a good time and a great memory. There was a hiccup or two and the cruise line ended up giving us a $750 credit for a future cruise.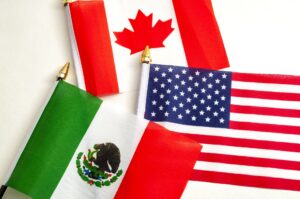 We booked a cruise to the Caribbean in 2020 but, when the world went crazy, we obviously had to cancel that cruise. A friend of mine was geared up to go to the Mediterranean, but that cruise was cancelled by the cruise line. She was able to successfully travel to Mexico in November 2020 and the Dominican Republic this month but not via a cruise. She was required to wear a mask in the airport and on the plane unless she was eating or drinking. So, she was constantly eating and drinking. No vaccine necessary to go to those locations and, as soon as she got to DR, they told them to remove their masks.
During the past several months I have been watching a YouTube channel wherein the host goes on several cruises a year. One man is from Canada and has experienced his own issues traveling in 2021 but has still been able to cruise.
One of the reasons he can cruise is due to the fact he is vaccinated and has no trouble wearing a mask. He's glad to do it although professes that he does not like it. On one of his cruises they tested him for Covid-19 when the cruise was over but the results did not come back for several days and Canada will not let you back into their country without a negative test (regardless of vaccine status).
I was admittedly very angry for him. It's not like everyone can stay at a hotel an extra week in a foreign country. It costs money for the hotel, the food, and your income stops if you're working.
One of his most recent videos really upset me but I doubt he, as a Canadian, would understand why it upset me the way it did. As of the first week in November, the United States will begin allowing vaccinated foreigners to enter the country. Per his video, there are Canadians who have not seen each other in over a year and a half due to being banned from crossing the border. He was very excited for them and glad the ban is being lifted.
I have a very important question for the American government!
Why have we not been allowing vaccinated people to cross our northern border when we are allowing illegal aliens to cross our southern border regardless of vaccination status, regardless of the reason, and regardless of how they will affect the rest of the country.
We aren't allowing legal travel into our country or people to cross our northern border who have always been allowed to do so, yet somehow, it's completely fine that thousands upon thousands of people can walk into America without legal authority to do so.
It is detrimental what the Democrats and their idiot leader is doing to our country. They don't care about the lives of the illegal aliens nor the trials they face walking their asses through Mexico to get here.
"Just vote for us and you can have anything you want."
That is the message and these people will expect payment of some kind for checking the box for the Democrats in the future. Assuming there's a future left in 2022 after everything the Democrats have pushed on us and continue to push through as quickly as possible. They believe their days are numbered but who knows what elections will bring.
Back to cruising, based on everything being said and policies changing weekly (sometimes daily), I'm left to believe we will never cruise again. We do not want to go on a relaxing vacation just to be told we must wear a mask onboard or at the ports or in the hot tub or in our room.
We do not plan to get the vaccine. Will that decision change? Perhaps, but not today. So, if all cruise lines are going to force passengers to be vaccinated, they have lost a customer. Does it matter to them? I doubt it but we are not the only ones who will not cruise until or unless this policy changes.
It does mean we will forfeit our $750 credit but it is what it is.