For years the Democrats, the media, the entertainment industry, the far Left, and social media has been trying to get rid of Donald Trump. Now he's on the verge of announcing another run for the White House and he may just get rid of himself. I hope I'm wrong!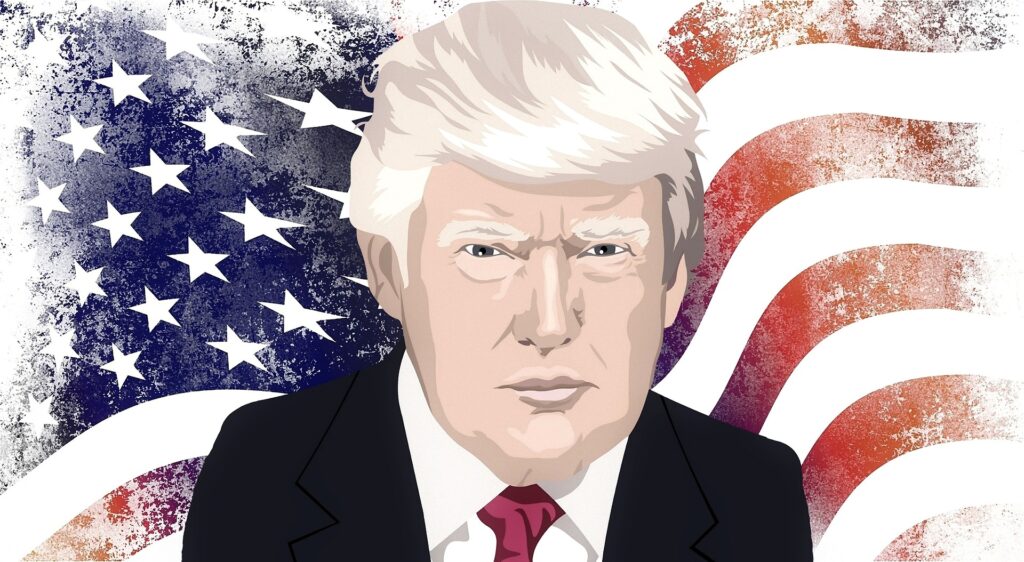 It was exhilarating in 2016 watching him run for president and batting down every attack. It was fun and a little off-putting reading his Tweets and batting down every attack. It was great watching him work during the four years in office and batting down every attack. Then the election of 2020 silenced him, and his supporters have been waiting for his return.
We know he relives the events of the last 6 years over and over in his head because he was living in those moments more than any of us. When he speaks to the public, he continues to bring up the past and all the bad that has happened to him and the good things he did along the way.
The problem is, many of us out here don't live where he lives; physically or mentally. We think about the election and all the shenanigans, but we are dealing with it differently. His replacement (Biden, if you've forgotten) has stabbed the United States with a blade so deeply that it will take years for us to recover; perhaps decades. I could list all of the issues (the border, the economy, etc) but that would take too much time. Suffice it to say, we are in deep doo-doo!
What do we want to hear coming out of Donald Trump's mouth right now? How about what he will do as president and not how bitter he is. How about being specific about how he will clean up the mess Biden has created and not focus on the 2020 election.
What many of us don't want to see is a war within the Republican party. Well, more specifically, a bigger war. Trump has already attacked DeSantis when he said he wasn't focused on the presidential election in 2024 but rather on the Governorship after winning that election. Trump wanted DeSantis to declare he would not run for president if Trump also ran.
If I didn't see this on Truth Social myself, I might have thought it was fake news. The screen shots below are from four days ago and the weird thing is that today (11/14/22) he thanked Ron DeSantis in a new post wherein he links a video Ron made supporting and thanking Trump during his campaign. It's a bizarre cat and mouse game; psychological warfare I just can't grasp.
One of 6 screen shots representing
0ne post by Donald Trump; broken
into segments on Truth Social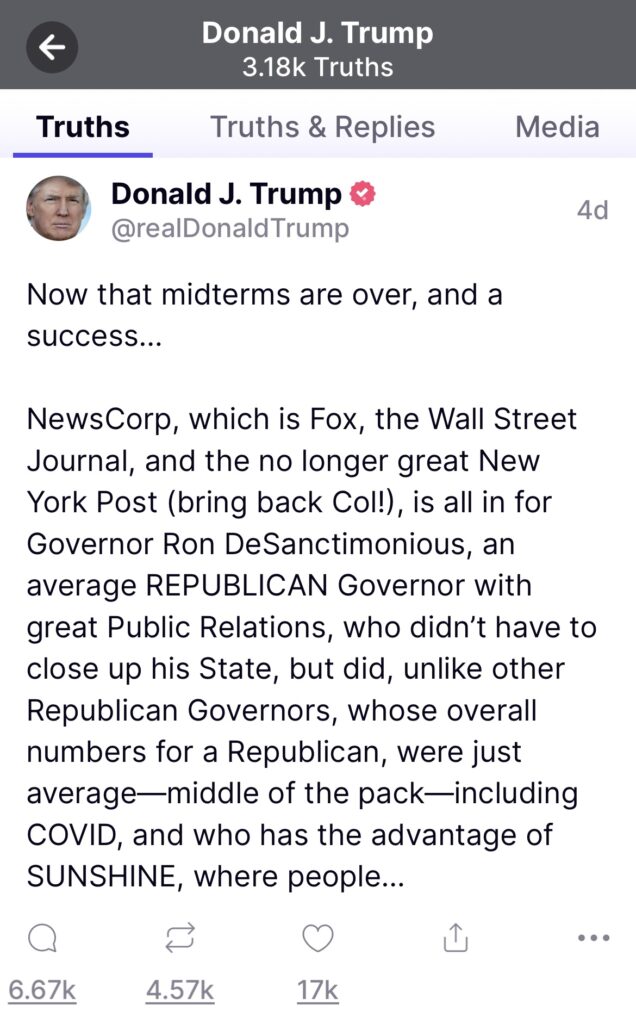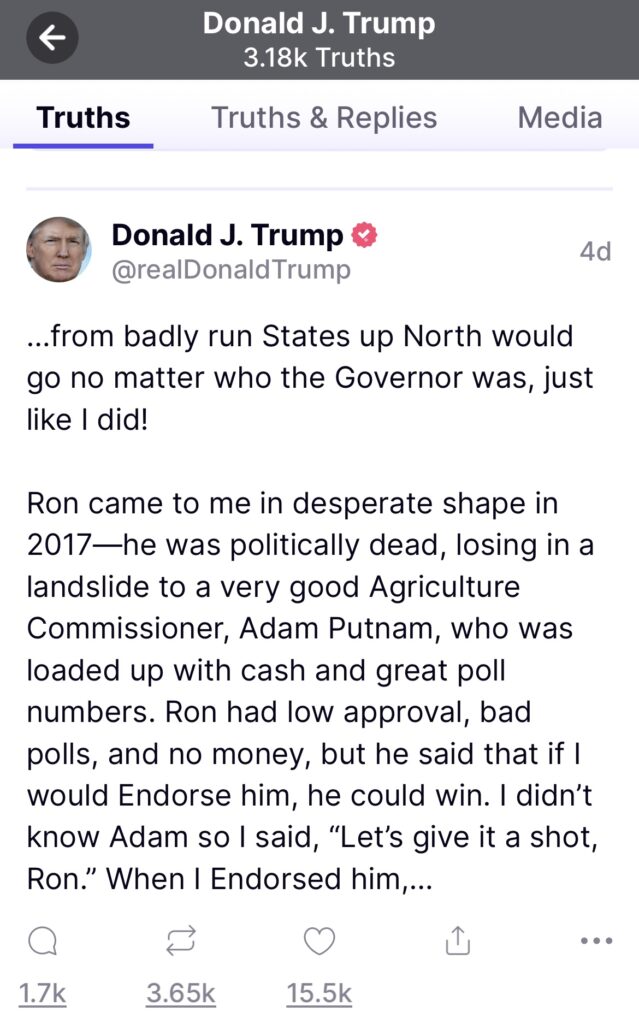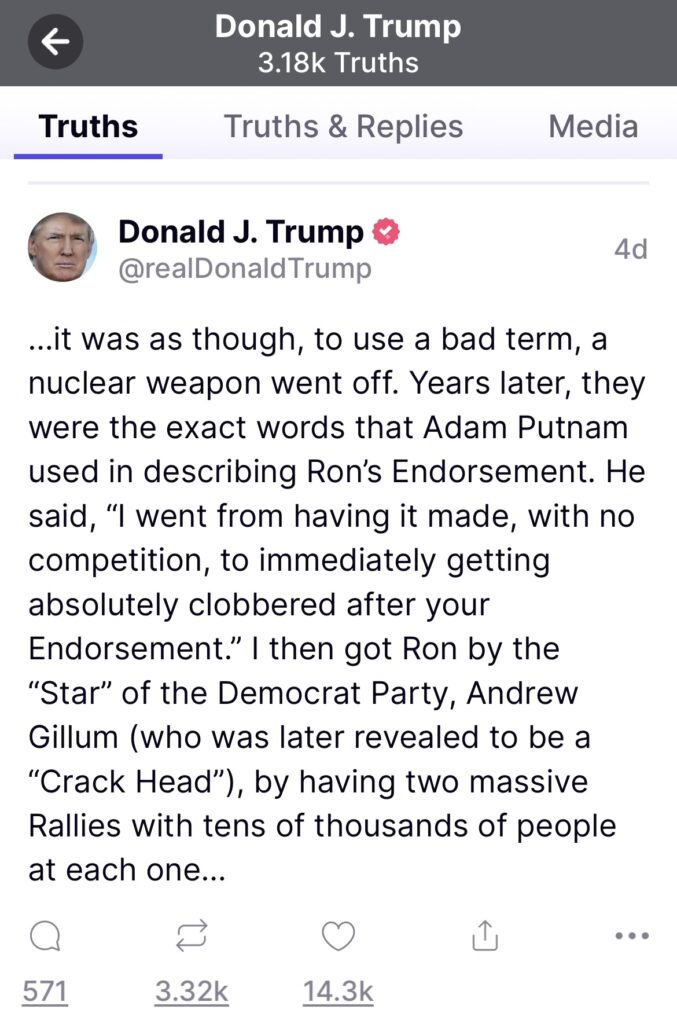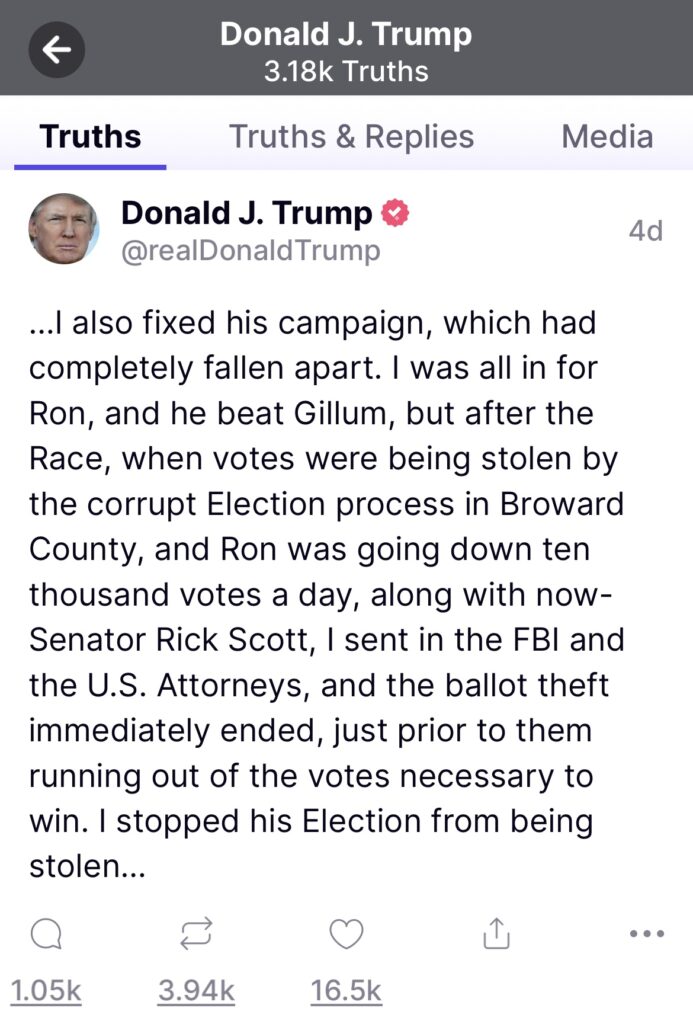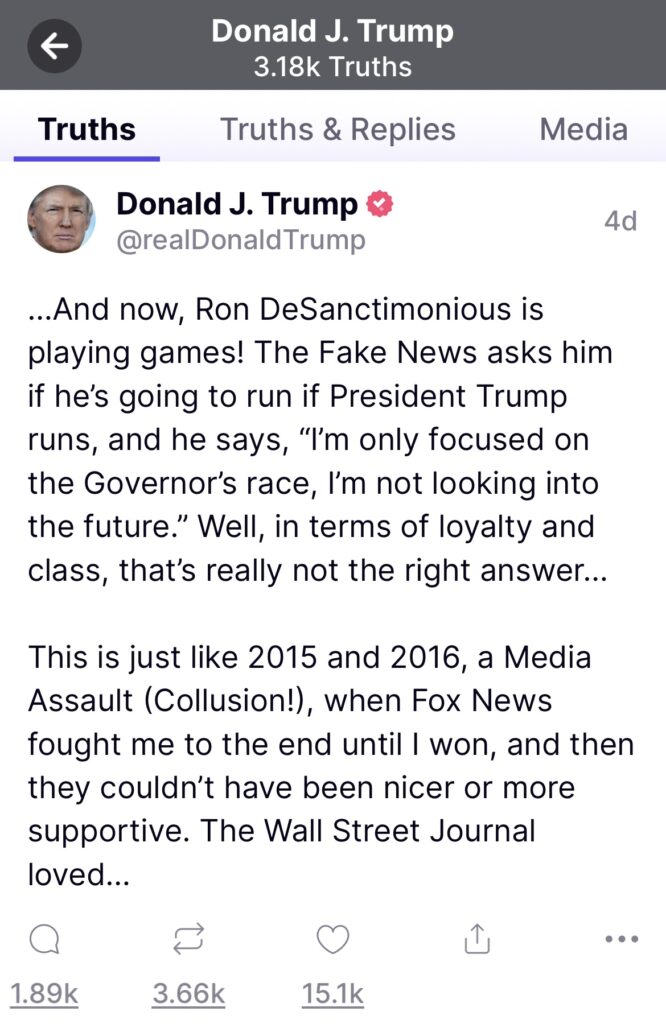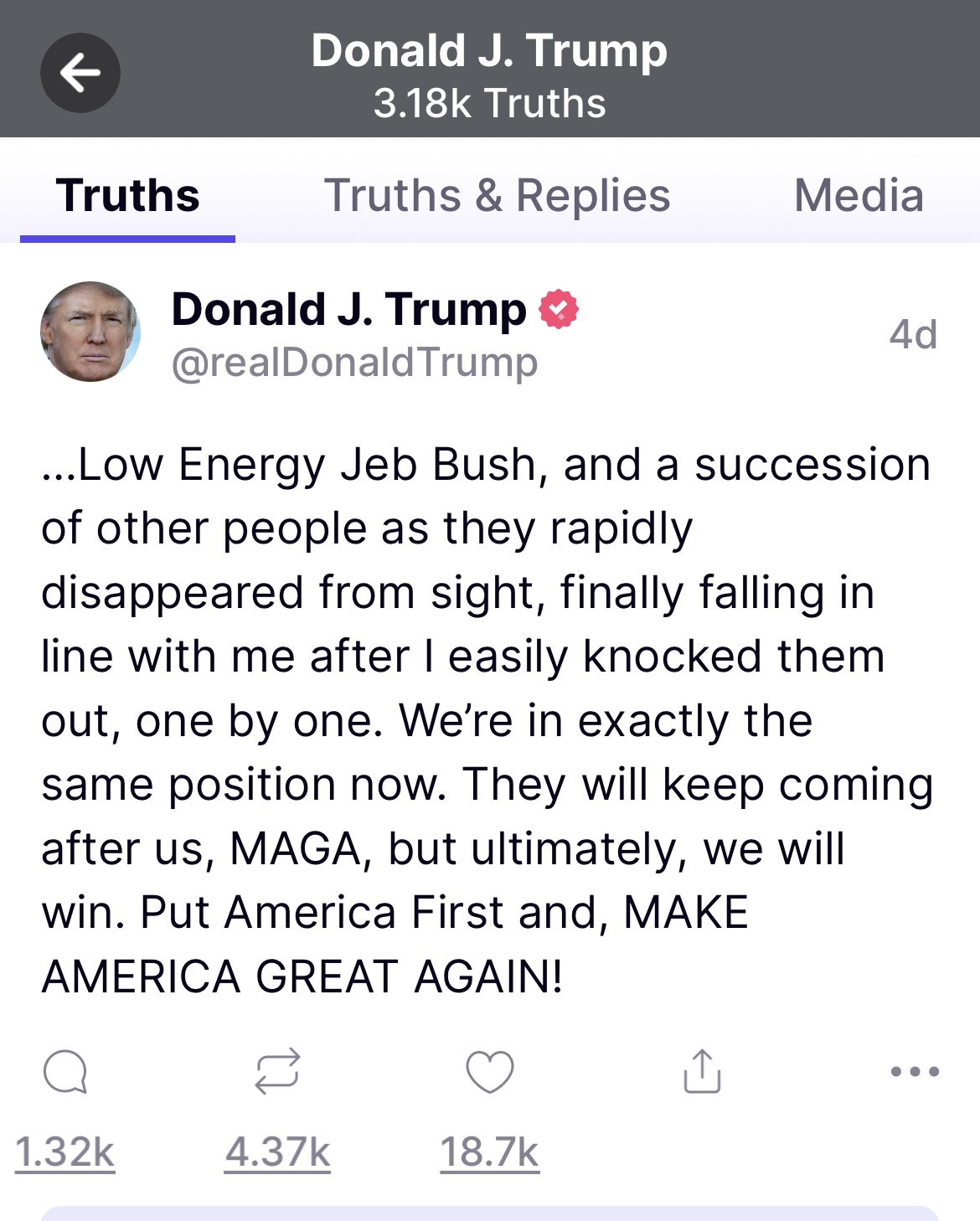 Here is the post from Donald Trump
today linking to an ad Ron DeSantis
made showing support for Trump.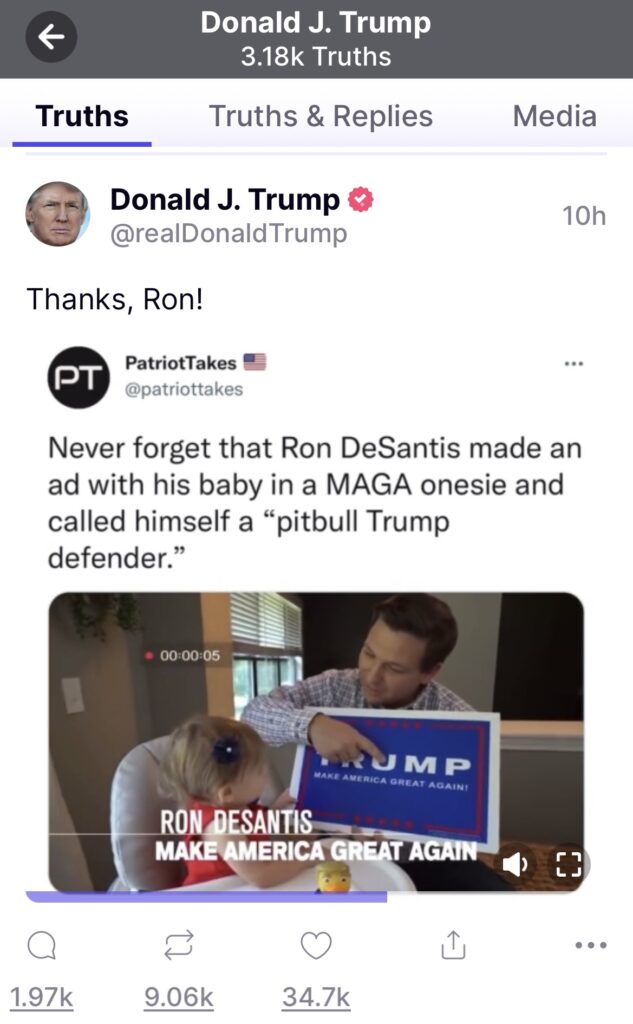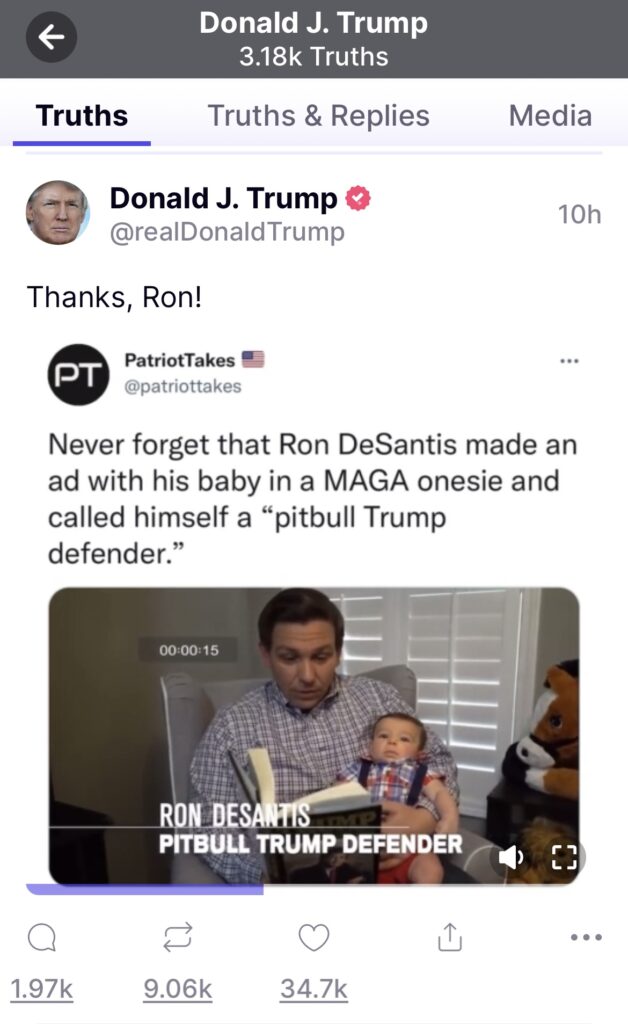 This is what many people cannot go through again. We know what it was like and we watched in amazement and awe but now we're beat up and wondering if it's worth another boxing match. Don't get me wrong, I WILL VOTE FOR TRUMP if he is on the ballot but some people have said they won't vote at all. That's not good!
The other day a friend of mine sent me a text while I was sending her one and we essentially said the same thing. The main difference was that she said she hopes he does not run where I said I just want him to back off a bit.
At the time he wrote the posts above, he had not announced anything but if you read between the lines it's obvious he's making a run for it or why else bash DeSantis. Today he's set to make the announcement and it's nearly a guarantee he will say he's running for president again.
Okay… fine… but let us see a man who will unite the Republican party rather than tear us all apart. The first time around it was necessary to expose them but now we know who they are and they understand the circumstances of supporting or opposing Trump. We learned that some Republicans are actually Democrats and they work hard to fool us.
Here's the thing though, whipping them before the race even starts is only going to piss off the fans watching from the bleachers. There are a lot of people who want DeSantis to run for president and in the end, if he is on the ballot, I will gladly vote for him.
I will not protest against a presidential vote for DeSantis if Trump is not the nominee. On the other hand, I will not protest against Trump if DeSantis is not the nominee. Unfortunately, there are some who will do just that!
But if Trump bashes and destroys DeSantis in the primaries (or more importantly two years out), he will cause a greater divide than intended. Such a divide will only benefit the Democrats especially if, for example, half of the Republicans vote for DeSantis and half vote for Trump.
In that scenario, will the primary winner get the votes in the general from those who went against him? Or will they protest by not voting at all?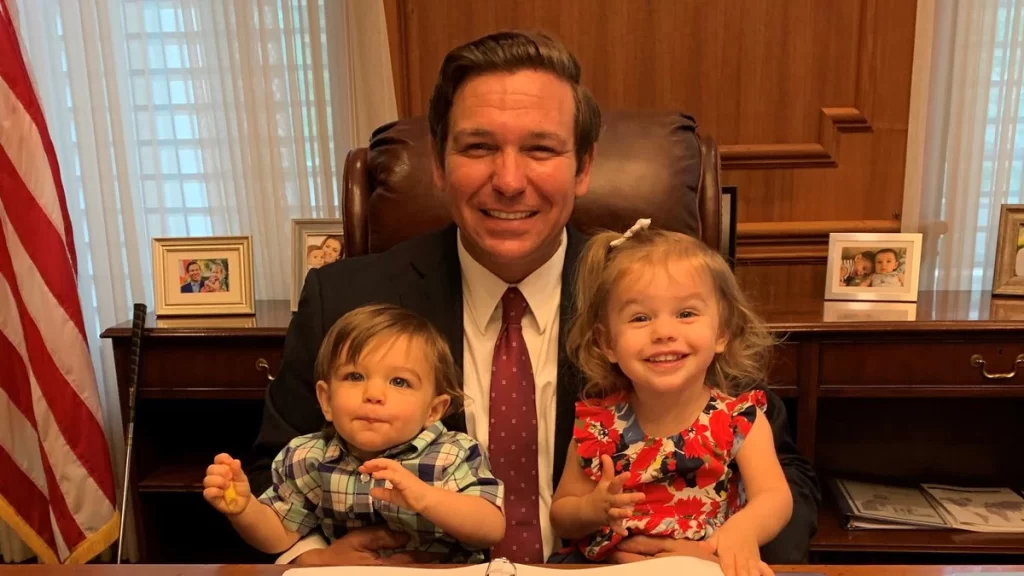 The best bet would be for Trump and DeSantis to sit in the same room and talk about it. Don't wait for the next interview and think "he better not say he's running". Instead, discuss the pros and cons of either man running in 2024.
All of the facts, as many people know them, point to Trump being the nominee. We already know what he will do once in office. He's proven that he can get a lot done and we know he would have done more if he had remained president another four years. He's vowed to get rid of the sabotaging admin government workers no one can apparently ever fire.
Most importantly, other country leaders respected Trump and were afraid of him in a very healthy way for the United States. Much that has happened under Biden's watch has proven to be disastrous and more than likely would not have happened under Trump. Sadly, other leaders may not respond to Trump the way they did last time because all they need to do is wait four years or so and the next guy will give it all away.
So what is the answer?
Trump will announce he's running and will start attacking anyone who does not fully agree with him. This will cause anxiety in many of his supporters who will shy away from him and deny he exists. They may still vote for him in the end, but it won't be like 2020 when people spoke of it openly and proudly. If we think the media bashed supporters before, watch out for the next two years.
If Trump becomes too overbearing and obsessed with the past election, people will WANT DeSantis to run so they can vote for him instead of Trump. Many have said they want to see a Trump/DeSantis run which would guarantee both men get into office.
Can the President and Vice president be from the same state?

There are many misconceptions about the rules of a president choosing their running mate. There's no law or regulation against a president and vice president of the United States being from the same state. The reason why some people mistakenly believe such a prohibition exists comes down to a particular aspect of the Electoral College system laid out in Article II of the U.S. Constitution.

Article II states: "The electors shall meet in their respective states, and vote by ballot for two persons, of whom one at least shall not be an inhabitant of the same state with themselves."
So, the notion these men cannot be on the same ticket together is false. The question is… does DeSantis want to be president in 2025? He's very young and currently working hard in Florida where they just elected him. Perhaps he wants to keep working there and make a run in 2028. Of course, if he were Trump's VP and then won election in 2028 and then 2032, he would be in DC for 10 years. Unclear if that's a good thing.
Here's the next big question: would it be more beneficial for DeSantis to be the VP now or have no connection to a Trump presidency and run once Trump can no longer run. Perhaps, he would rather run separate from Trump so as to say he did it on his own and avoid those who would say he only got the presidency due to Trump. Believe me, there are those who would say that and will say that of anyone who is elected after working with Trump.
And hell, with the obvious cheating in 2020 we can't say for certain any Republican on the ticket will win. Trump was healthy and awesome and lost to a wimpy old man who can't speak without help and often doesn't know where he is.